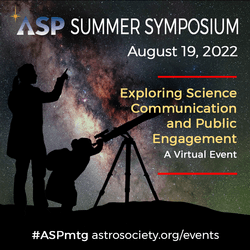 2022 Summer Symposium
Exploring Science Communication and Public Engagement
August 19, 2022 - A Virtual Event
---
A Special Public Talk with Jessica Harris Opened the Symposium, Thursday, August 18 @ 6pm PT/9pm ET
Includes Closed Captioning (interpreted by Zoom) for the Special Public Talk.
---
Chris Impey & Derrick Pitts I Communicating Astronomy in an Era of Misinformation - moderated by Linda Shore
Guest Panel I Out of the Shadows - Eclipse Engagement Off the Beaten Path - moderated by Vivian White
Martin Storksdieck I What Research Says about Effective Public Engagement by Scientists
Laura Peticolas I Ryan Wyatt I Sanlyn Buxner I Tenzin Rabga I Theresa Summer
Karlisa Callwood I Brian Kruse I Lynn Cominsky I Dennis Schatz I Suzy Gurton I KaChun Yu  
Greg Schultz I Summer Ash I Liz Kruesi I Dayna Thompson I Andrea Jones
---
Who is this Symposium for?
Science Communicators I Informal Educators I Scientists I Science Educators
Museum and Planetarium Educators I Science Writers I Journalists
Social Media and Traditional Media Experts I Park Rangers I Youth Leaders
         and more, from around the world!
---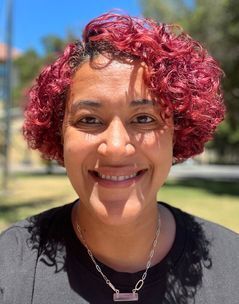 Special Public Talk with Jessica Harris
Thursday, August 18 6pm PT / 9pm ET
The Importance of Mentoring in STEM
Enjoy a special evening with Guest Speaker, Jessica Harris, physicist, informal educator, and science communicator. This special webinar event is in conjunction and opens the 2022 ASP Summer Symposium. Participants of the Symposium will get to join Harris for an exclusive post-talk Q&A. Free registration is open to the public with a suggested sliding scale donation.
American Sign Language (ASL) interpretation will be provided live as well as Closed Captioning (interpreted by Zoom)
---
Sign up for out Events @ASP email to hear about future webinars, workshops, and conferences 

#ASPmtg