Last days! Registration Open Thru 8/17 for ASP Summer Sympsosium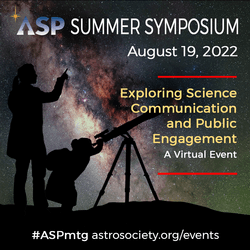 Note: Registration Closes August 17 at 8:59pm PT. On-site/online registration is not available for this Symposium.
Join us this summer and participate in our online, interactive Symposium to include live talks, panels, workshops, and discussions.
Invited communication experts and leaders will share best practices for improving public understanding and appreciation for science and the wonders of the cosmos.
Guest Plenaries
Chris Impey & Derrick Pitts I Communicating Astronomy in an Era of Misinformation - moderated by Linda Shore
Guest Panel I Out of the Shadows - Eclipse Engagement Off the Beaten Path - moderated by Vivian White
Martin Storksdieck I What Research Says about Effective Public Engagement by Scientists
Invited Speakers Include:
Laura Peticolas I Ryan Wyatt I Sanlyn Buxner I Tenzin Rabga I Theresa Summer
Brian Kruse I Lynn Cominsky I Dennis Schatz I Suzy Gurton I KaChun Yu
Greg Schultz I Summer Ash I Liz Kruesi I Dayna Thompson I Andrea Jones
Session Topics Include:
Scientists engaging the public
Communicating Astronomy to the Public
Inclusive Public Science Engagement
Public Engagement by Amateurs
Eclipse Outreach On and Off the Path of Totality
Bringing Modern Astronomy to the Public
Science Denial & Misinformation
Engaging Girls in Astronomy
Visualizations in Astronomy
The target audiences for this Summer Symposium include:
Science Communicators and Informal Educators
Scientists and Science Educators
Museum and Planetarium Educators
Science Writers and Journalists
Social Media and Traditional Media Experts
Park Rangers and Youth Leaders
and more, from around the world!